You unlock Luigi when defeating the Pirabbid Plant in 1-5.
Looks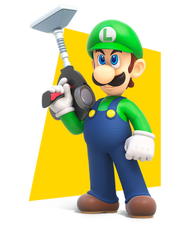 Luigi is the twin brother of Mario. He has a skinnier body type then him though. He has a green Hat and a long-sleeved green shirt under his blue overalls.
Weapons
His primary weapon is unique. The precision is a Mid-Range to long-Ranged weapon that can deal damage to enemies from afar.
Movement
He has a jump called "double jump" this allows him to team jump from TWO heroes instead of one.
Technique
His Primary technique is steely stare. a reaction shot that allows to shoot any moving enemies in range.
His secondary technique is itchy feet. this allows heroes in range to move extra cells.