Ancient Gardens
Ancient Gardens is the first world in Mario + Rabbids Kingdom Battle. It is a grassland and jungle area located to the east of Sherbet Desert, consisting of many flowers, water streams, immobilized Goombas, and a towering block structure.
​History
Mario and co. first land in Ancient Gardens just after the SupaMerge headset merges with Spawny. They venture through the grassland area and get past the Sunflower before they reach Peach's Castle. After briefly reconciling with Princess Peach, Mario and co. take a cannon to enter the jungle area of Ancient Gardens, where they find and defeat Pirabbid Plant and recruit Luigi. As Mario and co. exit the jungle area and enter the base of the block tower, they encounter Toad, who warns them of an enemy on the tower. Mario and co. manage to make it to the top of the tower, where they encouter Bowser Jr., who takes Spawny and uses him to create Rabbid Kong. After defeating Rabbid Kong, Beep-0 reports that Bowser Jr. had fled to Sherbet Desert, thus revealing their next destination.
​Levels
1-1 - Unlikely Heroes
1-2 - Flower 'Bud'
1-3 - Danger From Above
1-4 - Welcome to the Jungle
1-5 - Brother, Where Art Thou?
1-6 - On the Bubble
1-7 - Do U Stack Up?
1-8 - Precarious Pillar
1-B - Top Banana
1-S - The Hidden Bridge
Blizzy
Blizzy is one of two midbosses of Sherbet Desert in Mario + Rabbids Kingdom Battle. As her name suggests, she is a Rabbid fused with a flurry, with three icy orbs circling her. She is fought alongside her stronger ally, Sandy.
Blizzy's only actual damaging attack consists of shooting a single beam from her orbs. She also has an indefinite "line of sight" technique that allows her to shoot characters before her turn begins. If Sandy is defeated, Blizzy will continue fighting until she is defeated.
Bowser's Castle Bowser's Castle is the 9th Level in World 4 Lava Pits and the last story Level and so the 36th Level in the game. How to begin After having completed world 4.8, the player watches the doors of the castle open en then sees a golden cannon. when launched into this cannon the player gets shot to the battlefield. then a cutscene will play showing Mario and co. arriving and Bowser Jr. asking to help him. Then the Megabug Fuses with Bowser creating MegaDragonBowser, The Ultimate Final Boss! Phase 1 in the first phase of the fight Bowser has 1600 HP and gets supported by 4 Lava Valkyries with all 540 HP. Bowser attack in this phase is Fireballs: 100% crit with 100 Damage and Burn. He also when he is flying jump on the center for a shockwave. how closer a hero is, how more damage(Max.100 Damage). He also has Villian Sight with again 100% crit s0 100 Damage and burn. Phase 2 In the second phase, bowser again has 1600 HP and is now flying around the map. his attack is pretty low. cause its Rain fire. If a hero gets hit, they recieve 20 Damage. In this phase, 4 Lava Bucklers will spawn with each 445 HP. Bowser Technique this phase is Protection. wich reduces 50% damage for all allies who are still alive. Phase 3 In the thrid phase, Bowser has 1600 HP again. he lands in the center of the field and puts up a shield that reduces 100% Damage. Make sure that Everyone is behind a black box of cover. in the phase, 4 Lava Smashers spawn with 510 HP each. On his turn, Bowser Spins in a flaming shell to the closet hero. if the hero is behind a black box, bowser gets stunned and he can be attacked for 1 turn. repeat this as many times until bowser is defeated. Ending cutscene The ending wil show the Megabug seperating from Bowser and flies up to attack mario and co. luckly, the entire team shows up and all shoot at the same time. the megabug gets destroyed. Bowser Jr.'s Lair Bowser Jr. 's Lair is the Fifth Level of World 4 Lava pits in Mario + Rabbids kingdom Battle. It is the 32nd Level overall in the game. As the Titel says, this level is located in Jr's lair. As a Fifth Level, this Level is a Midboss. Gameplay When you start this level, You approach a giant Maze of pipes, which as expected,you have to solve in order to get down and continue. This Pipe area has three chests around. The one on the left has Coins and a Soundtrack. the Second one on the right has coins and a artwork, and the third one in the top has coins and 20 power orbs. When the player has solved the puzzle, you go down the the first fight. This fight consistes of 4 Lava Bucklers and 1 Lava supporter. The player gets 4 turns to get a perfect. When completed, a cutscene wil play showing Mario approaching Bowser Jr. But Jr. presses a button which pulls down Mech robot. Jr. takes place in it. Then its a fight with Mecha Jr. as midboss but there are 2 Lava Valkyries to help jr. Mecha Jr has a Massive 2000 HP and his Primary Attack is a giant Melee hammer that deals 240 Damage or 264 Damage When Burn as supereffect is inflicted. His secondary is a Sentry, which Jr wil always deploy if you are to far away. this sentry dus 135 Damage or 149 Damage when Bounce is inflicted. His Primary Technique is Magnet Dance. He does this when your not to far away, but to close for a sentry. When defeated a cutscene wil play showing the Mech destroying itself and Bowser Jr narrowly escaping. Jr is okay but drops Spawny. Spwany is saved by Yoshi and both go with Mario team. The Player gets 3 Turns to get a perfect. When Completed, the player wil be rewarded coins and 40 power orbs as well as a gold trophy of course. Brother, Where Art Thou?
Brother, Where Art Thou?
is the fifth level of
Ancient Gardens
in
Mario + Rabbids Kingdom Battle
. Its name is a reference to the film O Brother, Where Art Thou?. Completing this level unlocks
Luigi
as a playable character.
Layout
Before the level begins, Mario hears Luigi's screams, and decides to investigate.
The first part of the level introduces the knowledge of damage bonuses from attacking at a greater height. It has a small pond near the center, with two Ziggies and two Hoppers guarding it. Another Ziggy can be found on higher ground, near a dropoff zone.
The next part of the level features Pirabbid Plant, the first boss of the game. This arena is symmetrical, having two higher platforms on each side. There are also Burn and Push covers found here, and a total of four Ziggies: two beside Pirabbid Plant, and two behind some Push covers on opposing high platforms.
Once Pirabbid Plant is defeated, Luigi joins Mario's team.
Template:Level Info
Buckler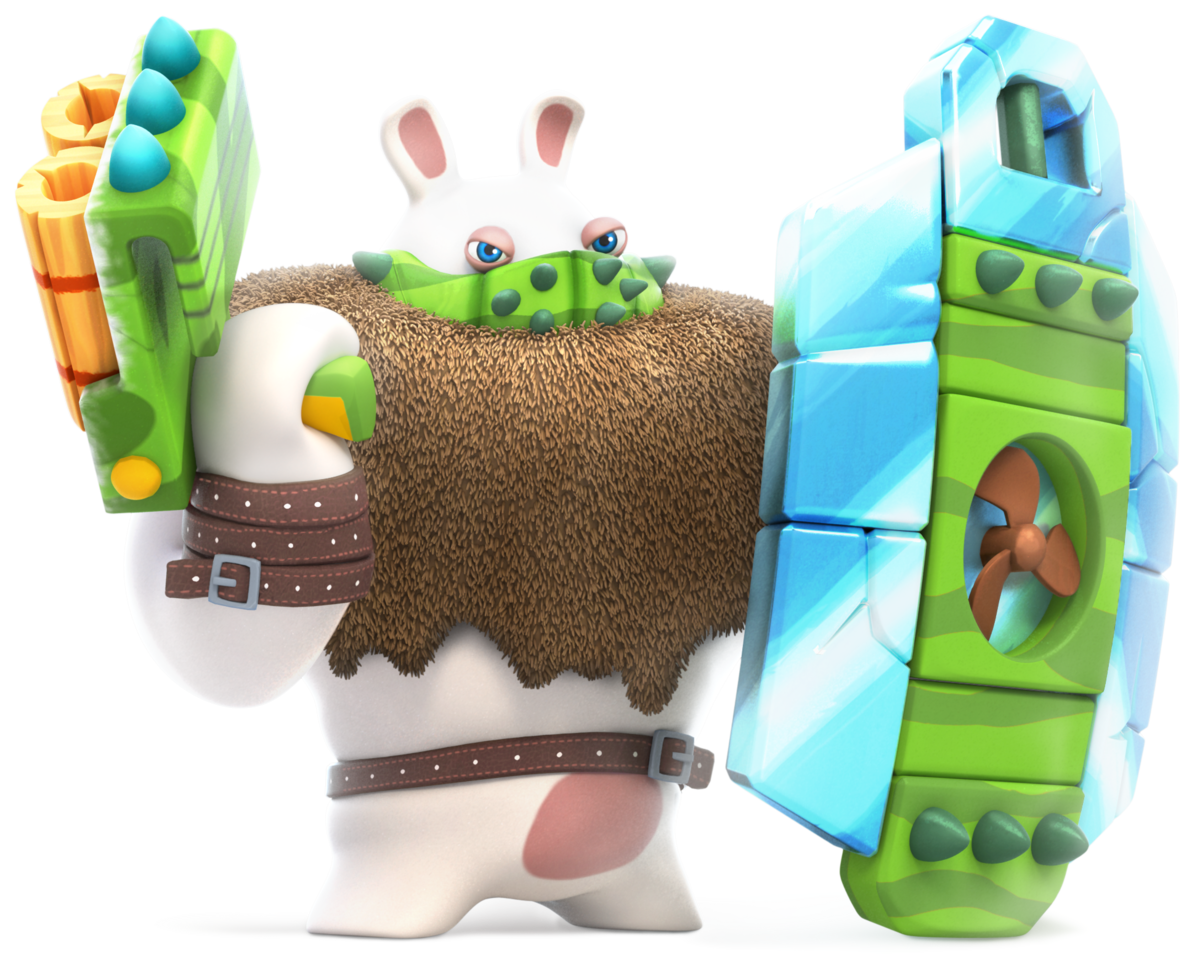 Bucklers
are Rabbid enemies in
Mario + Rabbids: Kingdom Battle
. They are large Rabbids that carry shields and machine guns. These guns fire in a cone-shaped arc, doing increasing damage based on how close their targets are. Their shots are capable of destroying Giant Brick Blocks and inflicting status effects. Their shields protect them from frontal weapon attacks, forcing the heroes to attack from their unprotected sides and back; alternatively, they can bypass the shield with dashes, Team Jumps, and splash damage attacks. Bucklers can also use an ability similar to Yoshi's Super Chance, giving themselves and nearby allies an aura that guarantees a critical hit on their next attack.
Variants
There are three Buckler variants, one for each area apart from Ancient Gardens. As an exception, several Sherbet Bucklers do appear in Challenge 8 of said world and there are Tropical Variants In the Donkey Kong Adventure DLC.
Sherbet Buckler: Encountered in Sherbet Desert, this Buckler has 195 HP. Its gun, shield, and scarf are green with darker stripes.
Spooky Buckler: Encountered in Spooky Trails, this 295 HP Buckler appears to be undead, with a pale body, glowing blue eyes, and black accessories.
Lava Buckler: The final Buckler variant is encountered in the Lava Pits, with a charred appearance, glowing orange eyes, orange accessories including a Bowser Jr. scarf, and 445 HP.
Tropical Buckler: The Buckler variant for Donkey Kong Adventure. It wears a feathered headdress resembling a skull and shoulder plate resembling bones, and 170 HP. They can be encountered before their actual introduction in Sherbet Desert. The major difference is that instead of Super Chance, they have the technique of Protection, shared with Valkyries and Princess Peach, reducing damage dealt to nearby enemies through partial absorption.
Stats
Blizzy
File:Blizzy Portrait.png
HEALTH POINTS
TEAM JUMP
DASH
210
None
None
AREA OF MOVEMENT
PRIMARY WEAPON
SECONDARY WEAPON
9 Cells
Precision (Freeze)
65 DMG
None
PIPE EXIT RANGE
PRIMARY TECHNIQUE
SECONDARY TECHNIQUE
None
Villain Sight
65-65 DMG
None
CHASE RANGE
TERTIARY TECHNIQUE
Hot 'N' Cold Creeps!
None
None
Sherbet Buckler
File:Sherbet Buckler Portrait.png
HEALTH POINTS
TEAM JUMP
BOOM DASH
195
None
40 DMG
AREA OF MOVEMENT
PRIMARY WEAPON
SECONDARY WEAPON
4 Cells
Boomshot (Honey)
65 DMG
None
PIPE EXIT RANGE
PRIMARY TECHNIQUE
SECONDARY TECHNIQUE
2 Cells
Super Chance
Super Effect guaranteed
Buckle Cover
Portable Cover
CHASE RANGE
TERTIARY TECHNIQUE
Much-Maligned Hidebehind!
None
None
Spooky Buckler
File:Spooky Buckler Portrait.png
HEALTH POINTS
TEAM JUMP
BOOM DASH
295
None
55 DMG
AREA OF MOVEMENT
PRIMARY WEAPON
SECONDARY WEAPON
4 Cells
Boomshot (Push)
85 DMG
None
PIPE EXIT RANGE
PRIMARY TECHNIQUE
SECONDARY TECHNIQUE
2 Cells
Super Chance
Super Effect guaranteed
Buckle Cover
Portable Cover
CHASE RANGE
TERTIARY TECHNIQUE
Much-Maligned Hidebehind!
None
None
Lava Buckler
File:Lava Buckler Portrait.png
HEALTH POINTS
TEAM JUMP
BOOM DASH
445
None
75 DMG
AREA OF MOVEMENT
PRIMARY WEAPON
SECONDARY WEAPON
4 Cells
Boomshot (Ink)
110 DMG
None
PIPE EXIT RANGE
PRIMARY TECHNIQUE
SECONDARY TECHNIQUE
2 Cells
Super Chance
Super Effect guaranteed
Buckle Cover
Portable Cover
CHASE RANGE
TERTIARY TECHNIQUE
Much-Maligned Hidebehind!
None
None